Today (April 23rd, 2014 until 8:00 PM ET) we are giving away one signed copy of Joanna Rakoff's memoir 
My Salinger Year
. To enter the giveaway, see the bottom of this post. Click 
here
 for full information about this individual giveaway and the 23 other books participating in the OMG! All The Books! Giveaway through May 8th.
About Today's Book: My Salinger Year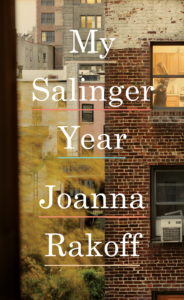 "It feels a great friend is telling me the best story ever. So seamless, so smart. It's everything you could want it to be – insightful, elegant, smart, touching. There's so much I loved, but I keep coming back to the beauty and clarity of the sentences – it reads as if it's exactly what it's supposed to be. Nothing that's posing or drawing excessive attention to itself. Elegant. that word again. And the portraits of all the people are full and also moving." – Robin Black, author of Life Drawing


A Short Q & A With Joanna Rakoff
What is the title of your book? Why?
My Salinger Year. As it chronicles the year I spent answering Salinger's fan mail and generally working for Salinger. As it happens, it was a momentous year for him, in which he decided to publish a new book and rather came out of his decades-long hermitude. When I began the job, I was told "you'll never hear from Salinger, you'll never meet him, you'll never speak to him." Then, my first day at the office, he called.
What were the seeds of this book?
I'm primarily a novelist, but this new book is a memoir, a chronicle of the year I spent answering J.D. Salinger's fan mail as an assistant at New York's oldest literary agency, a strange and storied place that even in the mid-1990s conducted business as if it were the mid-1950s. No computers. No voicemail. Assistants typed correspondence on ancient IBM Selectrics and if the phone rang when the receptionist was out, well, too bad. The Agency—as I call it in the book—had a code of silence with regard to Salinger, as per his wishes, and much of my job involved protecting his privacy.
Many years ago, the wonderful Times reporter Ralph Blumenthal suggested that I write a personal essay on the Agency and Salinger and his fans, but I was still so in the thrall of the Agency that I said something like, "Oh, I could never do that!" A few years later, I mentioned the idea at a story meeting, and ended up writing a piece on it, which struck such a chord with people I couldn't quite believe it. Editors and agents wrote, asking me to write a book on the subject, some with incredible persistence. But I was writing a novel and didn't want to take a break from it. And I also just couldn't see the essay as a book. It seemed to me a small story. Some years later, after I'd published that novel—A Fortunate Age—Salinger died and I wrote a couple more pieces on the subject, one of which became a BBC radio documentary, and again editors came calling. Again, I said no, but as the months wore on, the first sentence of what would become My Salinger Year floated into my head, and the next few pages followed, and suddenly the story arc came to me. I realized it was a much larger story—a story larger than me or Salinger—and that I could indeed write it.
Was there a particular moment that this book became its own beast, outside of you?
Perhaps two moments: First, when I was writing it, very intensively, in the final few months before it was due, it did indeed seem to be a train operating of its own accord, as though I were merely steering it. Much as a novel does, at a certain stage.
Second, would be now, these last nine months, as people read it and begin to write about it, and I see the ways in which it is like a child, of me, but not me.
What sentence (or phrase, or idea, or innovation) in this book are you most proud of?
I'm not really a person who thinks in those terms. I'm rather more prone to self-deprecation than statements of pride. I suppose when I think about writing the book, what makes me most excited are those moments when everything began to fall into place: That day, sitting at my desk, when I wrote those first lines, the lines that framed the book as something larger than myself, the story larger than simply myself, for instance. Or the days when I sat there crying, as I realized that I'd broken through to a larger truth, that I'd faced something terrifying about my youth, my mistakes, my vast and incomprehensible emotions. This is the difficulty of memoir: Facing your former self. In the case of this book, it meant revisiting a terrible thing I'd done at age twenty-three: Abandoning the man I loved, for reasons I didn't understand and chose to ignore rather than explore. In signing on to write the book, I sort of forgot that this was part of the story. But it was, and I had to write it. In a way, fiction is no different: You have to be brutal to your characters, just as you do to yourself in memoir.
When did you first know you were a writer?
As a child, I spent most of my free time reading and writing. I think my first poem appeared in print when I was perhaps 7 or 8: In my elementary school's literary magazine. But my family was not quite the sort in which a person could say, "I want to be a writer," and, thus, I couldn't even articulate that desire to myself until well into my adulthood, much less think "I'm a writer." But I suppose I knew very, very early on, when I preferred reading and writing above all else, when my peers complained about writing papers and I looked forward to it.
And in terms of thinking of myself as a writer in the real, professional sense, I suppose publishing some of my first pieces in magazines—writing for the Times, in particular–led to my tentatively telling people, at parties, "I'm a writer."
Which writers (or books) have made you think about your own writing in new ways?
Oh, God, so, so many. In preparing to write this book, I read dozens and dozens of memoirs, trying to figure out my own tone and style and structure. I'm not a writer who employs the first person much, so memoir struck me as a little tricky. But then there are the few, the sublime, the memoirs that read like novels. Alice Sebold's Lucky, a brilliant, brutal account of rape and its aftermath. Said Sayrafiezadeh's When Skateboards Will Be Free, which chronicles his childhood in the Communist party with tremendous tenderness and humor—and anger. Carlene Bauer's Not That Kind of Girl, a dense, rigorous coming of age tale, in which Bauer struggles to reconcile her fundamentalist background with her intensely personal quest for intellectual and spiritual development. Poser, Claire Dederer's brilliant autobiography through the lens of yoga–sounds silly, unless you know that Dederer is hands down the finest book critic in America, a thinker of the highest accord, with a cult following (that includes me). And Cheryl Strayed's wonderful, singular Wild, an account of Strayed's long ago trek—solo trek—up the Pacific Crest Trail.
These memoirs, as I said, read like novels, but with an added layer of intimacy, which lends them a frisson, I suppose, and which also makes you, the reader, want to simply call up the writer on the phone, in the words of Holden Caulfield. They made me understand what James Atlas was getting at, all those years ago, when he described the memoir as the form for our age: our age, in a way, is one of transparency in storytelling, of "reality" television; but it's also one of intense loneliness—despite all our ways of contacting each other—and isolation. And the memoir, with its whispered confessions, breaks through that uneasy solitude. It makes us feel less alone.
But these memoirs also made me understand, of course, the heights to which the form can soar: That a memoir, despite being confined to that relentless 'I,' can possess an enormous sweep and scope, can take stock of a cultural moment and a generation, can be narrated with humor and grace and self-awareness, rendered in language as complex and gorgeous as Eliot. That the 'I' doesn't necessarily need to be confining. It can be freeing, if you let it.
Are there any writers featured in this giveaway with whom you have a strong friendship? How did you meet that person? How do you support each other's work?
Yes, a few, in different ways! Edan Lepucki is a dear and cherished friend, to whom I came in a funny way: We both went to Oberlin, at different times (she's a little younger than me), but shared a mentor. Four or five years ago, he said to me, "You need to meet Edan Lepucki. You guys will be fast friends." But she lived in Los Angeles and I in New York. Soon after, I found out I was traveling to LA for an event, and…a note showed up in my inbox from Edan, asking if she could interview me for The Millions. At that point, I read everything she'd written and saw that we shared a certain sensibility, both literary and otherwise, and I just knew we'd become friends. Her essays were brilliant: elegant, honest, funny, perfectly composed. As was she.
Other friends would be Porochista Khakpour and Julia Fierro, both of whom I met through friends of friends, but—and this is sort of typical of modern life—whom I got to know primarily through email and social media. In the case of Porochista, before we were introduced, I'd read much of her work—fiction, essays, interviews—and not only loved it, but thought, who is this person? She just has such a fierce and brave approach to the world, and she's a genius: a truly original thinker. Then we began corresponding and became fast friends. With Julia, I admired her as a person—on social media, she's so warm and funny and kind—before I got to know her myself or read a word she'd written. Then, we became friends, and then I read and LOVED Cutting Teeth (as does everyone who reads it!).
Also, Robin Black: We know each other because I wrote her a fan letter after reading her wonderful collection If I Loved You, I Would Tell You This. I suppose we're more acquaintances than friends, but I hugely admire her.
All of us, I think, support each other's work on social media and through word of mouth, as well as in other ways (helping arrange events, etc.).
If you weren't a writer, what do you think you would be? Put another way, what else fills your life besides writing (and how does this influence your writing, in practical or ephemeral ways)?
I honestly don't know. Perhaps an editor? I do an extraordinary amount of yoga, so much so that I'm qualified to teach, but I can't imagine doing this, as part of what I love about yoga class is that I'm not teaching it. In the rest of my life, I'm in charge. At yoga, I just follow instructions, put myself in my teacher's hands. Yoga does, however, dramatically affect my writing—as does meditation–in that it has taught me the concept of practice: Yoga, like writing, is a practice. The pleasure has to be in the practice itself, not the end result. Otherwise, there is only pain and dissatisfaction.
More About Joanna Rakoff
Joanna Rakoff's novel A Fortunate Age won the Goldberg Prize for Fiction, and was a New York Times Editors' Choice, a winner of the Elle Readers' Prize, an Elle and a Booklist Best Book of 2009, and a San Francisco Chronicle Best Seller. Her memoir, My Salinger Year, is out from Knopf in June, will be published in eight countries worldwide, and is being adapted for film by River Road Productions. You can find her on her website and Twitter.
Enter Today's Giveaway!
To enter, answer the following question in the form below:
In My Salinger Year, Rakoff has a challenging first day at her job at the Agency. What was your first real job, and how did your first day go?
One winner will win one signed copy of Joanna Rakoff's memoir My Salinger Year. Limit one entry per IP address. No purchase necessary. Open to legal residents of the United States, who are the age of 18 or older. Deadline for entry is 8:00 P.M. ET on April 23rd, 2014. Read the complete rules.