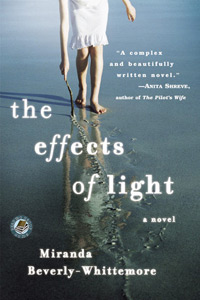 Amazon   Barnes & Noble   IndieBound   Powell's
Throughout their childhood, Myla and Pru Wolfe pose for a haunting series of photographs, many involving nudity. Young, beautiful, and motherless, the sisters bond fiercely in their shared sense of loss, unquenchable thirst for knowledge, and status as favorite subjects for family friend and photographer Ruth Handel. The photographs fire each girl's psyche with a sense of artistic accomplishment. Until their world irrevocably shifts…
Thirteen years later, Myla receives a mysterious communication that calls her back to her past. Awkwardly fleeing the one man who has managed to pierce her defenses, she flies home to Oregon, where a series of packages are sent to her in measured installments. They are time bombs of revelations, and artifacts that force her to relive—and come to terms with—the event that changed her family forever.
Edgy, richly evocative, and profoundly moving, The Effects of Light is an unforgettable debut novel, and a story drenched in luminous epiphany and unexpected truth.
The translation rights to The Effects of Light have been sold in France, Germany and The Netherlands  and Sweden.
Reviews
"[An] ambitious first novel."
– The New York Times
"One of this season's finest debuts."
— Seattle Post-Intelligencer
"Beverly-Whittemore's stunning novel will stick with you long after the last page."
— Marie Claire