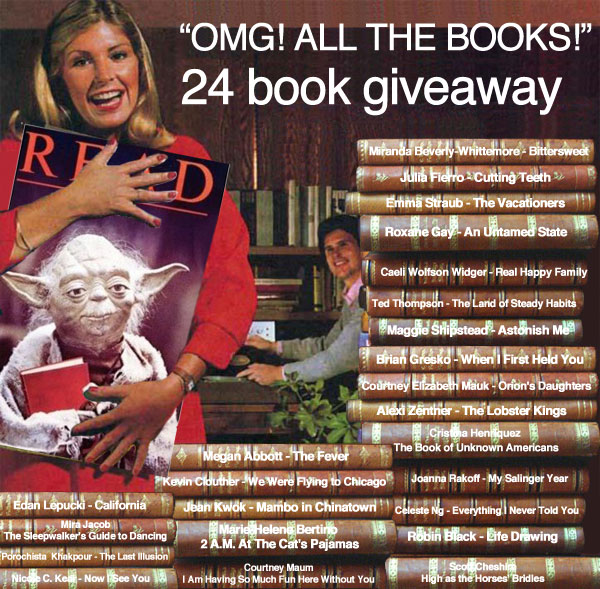 What do I love even more than books? The writers of books! My fellow writer pal Julia Fierro and I are lucky to call so many talented and hardworking people our friends—but since we can't give our friends away, we're excited to announce a HUGE GIVEAWAY featuring their work. Welcome to the OMG! All the Books! Giveaway, where you'll have the chance to win 24 of the most buzzed-about books of the summer!
The shared enthusiasm between our writer friends alone promises that this giveaway is going to be huge – and I'm excited to welcome READERS to this experience. Starting April 7th, along with our online genius friend Dan Blank, Julia and I will be running a DAILY GIVEAWAY right here, ending on May 9th. Each day, you'll have the chance to win a signed first edition of the brand spanking new book from these incredible authors:
But that's not all! By entering into a daily giveaway, you'll also qualify for the BIG GRAND PRIZE GIVEAWAY – ONE COPY OF EACH OF THESE BOOKS! Signed! By the author, even! That's right, the grand prize winner will receive 24 signed first editions; each of the books listed above.
I'm going to give you a minute to absorb how phenomenal that is.
HOW THIS GIVEAWAY WORKS
Each day, we will post a new giveaway featuring one author in which we'll give away a single copy of their book. We will update the schedule above with links to each giveaway. To enter to win each daily giveaway, we'll post a question about each person's work; by answering in the entry form, you'll automatically enter that day's giveaway! We'll announce one winner the next morning while featuring the next book.
There will also be  one grand prize winner who will win ALL THE BOOKS. The grand prize giveaway will be announced on May 9th. If you enter ANY of the individual book giveaways, you are automatically entered to win the grand prize. You can enter once per individual giveaway, but if you enter EACH of the daily book giveaways, that DOES increase your chance to win the grand prize. For the grand prize, we will count one entry per person per day.
Each day, we'll give away one signed first edition of the book outlined via the schedule above. But keep in mind that some of the books won't be out until August! In that case, you'll receive the book as soon as it's available. The grand prize winner will receive them individually in the mail from each author as the books are released, not in one huge (and heavy) package.
How can you join the fun?
Enter each daily giveaway, every day between April 7th and May 9th (see the full schedule above)
Follow this hashtag on Twitter: #OMGbooks
And please spread the word!
All the details on the contest rules can be found here.
Please note:
To enter, you will fill out the entry form on each of the giveaway pages when they go live (they will be posted on this page).

The winners will be chosen at random.

Winners will be notified via email, so please include an email that you check often.
You must be 18 years of age or older to enter and a legal resident of the United States to enter.
Thanks!
Miranda (and Julia and Dan)