Today (April 7th, 2014 until 8:00 PM ET) we are giving away one signed copy of Emma Straub's novel
The Vacationers
. To enter the giveaway, see the bottom of this post. Click
here
for full information about this individual giveaway and the 23 other books participating in the OMG! All The Books! Giveaway through May 8th.
About Today's Book: The Vacationers
Straub's second novel (Laura Lamont's Life in Pictures, 2012) is contained in the two-week vacation of the extended Post family: Franny and Jim, married over 30 years; their teen daughter, Sylvia; twentysomething son Bobby, his girlfriend, Carmen, in tow; and Franny's best friend, Charles, and his husband, Lawrence. Trading one grand island for another, the mainly Manhattanites arrive in Mallorca with, of course, a few secrets tucked in their literal baggage—and so begin the games that occur above the plane of the Scrabble board. Jim has suddenly left his beloved magazine job, and not everyone knows the circumstances; Sylvia's excitement to get to Brown might have more to do with leaving home; Carmen wishes Bobby would ask his parents for that favor already; and it's more than work emails keeping Lawrence searching for a WiFi signal. Straub masters a constantly changing flow of perspectives as readers wonder who will forgive and be forgiven in this sun-soaked, remote paradise. Spongy and dear, sharply observed and funny, Straub's domestic-drama-goes-abroad is a delightful study of the complexities of family and love, and the many distractions from both. –Booklist Starred Review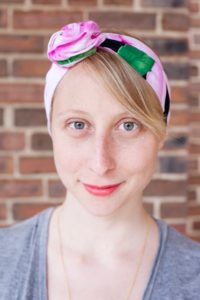 A Short Q & A with Emma Straub
What is the title of your book? Why?
The book is called The Vacationers, which is perfect, but it had a different title for its whole life. My editor came up with the title, actually. Now when I look at the cover, I can't imagine it being called anything else.
What were the seeds of this book?
I've been working on this book, in some ways, for years. I started writing about the Post family in 2005, when I started planning out the crazy novel that took place all in one day, with alternating chapters that were flashbacks… hoo boy, was it a big ole mess. Then I went to my MFA and started writing stories, and turned some of the flashbacks into standalone pieces, three of which were in my story collection. It was really lovely to go back to those characters all these years later and know them so well—I wrote this book in a few months, really, but that was only possible because I'd already put in so much time.
Which writers (or books) have made you think about your own writing in new ways?
Jennifer Egan, always. A Visit from the Goon Squad, The Keep, "Black Box." Hot damn. I couldn't love her more.
Are there any writers featured in this giveaway with whom you have a strong friendship? How did you meet that person? How do you support each other's work?
Amazingly, I'm friends with MOST of the writers in this group, in one way or another—Edan and I went to college together, Julia hired me to teach for Sackett Street, Maggie was nice enough to write me a blurb, I know Joanna and Ted and Robin and Megan and Roxane from around the way…it really is a lovely group. I'm happy to support them all in any way I can.
If you weren't a writer, what do you think you would be? Put another way, what else fills your life besides writing (and how does this influence your writing, in practical or ephemeral ways)?
Cheese eater, cat lover, dress shopper, baby kisser, book reader.
More About Emma Straub
Emma Straub is the author of The Vacationers, Laura Lamont's Life in Pictures, and Other People We Married. She has written for Vogue, The New York Times, New York, and many other places. She has one husband, one baby, and two cats. You can find her on her website, Twitter, Tumblr, Instagram and Facebook.
Enter Today's Giveaway!
To enter, answer the following question in the form below:
In The Vacationers, the Post family spends two weeks in Mallorca, Spain. Emma Straub has listed some of her favorite vacation spots on the news page of her website. (Her guidelines: must have excellent baked goods, sunshine, and restaurants that don't object to one very handsome small child.) What are your favorite vacation spots and why?
One winner will win one signed copy of Emma Straub's novel The Vacationers.
Limit one entry per IP address. No purchase necessary. Open to legal residents of the United States, who are the age of 18 or older. Deadline for entry is 8:00 P.M. ET on April 7, 2014. Read the complete rules.